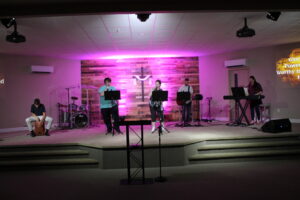 Why does the Lord invite us into a place of worship?
The Lord, in His mercy, designed it for us to find our fullest expression in life standing before Him accepted, delighted in, and ministering unto Him in thanksgiving and praise. God always chooses the best. If God, in loving us, chooses to design us as worshippers, then what's the point? You always become like what you worship. There's nothing He could want more for us than for us to become like Him. With that in mind, He designed us to be worshippers.
We are designed to respond to God's presence with worship, and as we do so, we are continually transformed into the likeness of Jesus. Thanksgiving and praise are necessary sacrifices, but in worship, we ourselves are the living sacrifices! God is looking for worshippers; will you be one of them?
We strive to create an atmosphere with our worship that draws the Spirit of God to come and meet with us. With the help of our Worship Team we are learning to love him and listen for his voice.